{ "artefact-metadata-hxa7241-www": {
  "title": "About",
  "author": "Harrison Ainsworth",
  "date": "2023-01-13",
  "id": "urn:uuid:EB97B2D0-541B-43D0-9F79-49D4D104DBA4",
  "subtype": "text/html",
  "type": "jottings" } }
About
a vague, apocryphal, and soi-disant description of the author
What
This site is a collection of odds and ends I have incidentally produced: including software, articles, notes, book transcriptions, and whatever else.
The name HXA7241 takes its pattern from the film THX-1138:
"How shall the new environment be programmed? It all happened so slowly that most people failed to realise that anything had happened at all."
Who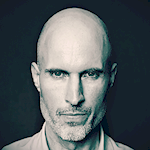 Mostly, I have been writing software for various platforms and languages – for many years. (Here is the most ancient code I still have.) I am usually in Northern Europe.
But really: I am less than 0.5% different from anyone else genetically, and just as ordinary experientially – so look around, pick anyone, and you will have a fairly good picture of me.
Contact
Web

Email

hxa7241 (at) googlemail (dot) com

Twitter

GitHub
Surroundings
pictures
Not photos – that would be too mundane. Here are some synthetic renderings (made with one of my old renderers) of my old study:
other